Custom Software Development
From modernization to full-cycle software development, our custom software solutions are designed to solve exclusive business challenges.
Request a Proposal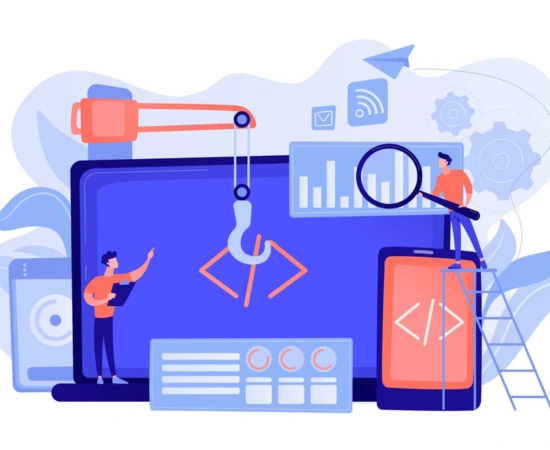 Looking at the trend of "Go Digital", it's important that your company satisfies your customers with decent, elegant and easy-to-use tools and services. Here at Kansoft we build custom-made software with our deep technical knowledge and expertise to meet your goal. Our experts have worked with startups, midsize to enterprise level companies, so no matter what the size of your company is and how complicated you want us to build custom software, it's just "you dream, and we will execute".

System Integration Services
We provide software customization and integration services with the help of tech partnership with different modern platforms.

Cloud Based Development
We provide software customization and integration services with the help of tech partnership with different modern platforms.

Enterprise Software Development
We develop and deliver next-generation enterprise applications to streamline your business processes and enhance customer experience.

Legacy Modernization and Application Migration
Our team of experts helps you to eliminate the hurdle of legacy interfaces and provide technical architecture reviews and complete application refinement to bring your IT up to date.
Benefits of Advanced Custom Software Development at Kansoft
Custom software development serves the unique requirement of business which cannot be provided by ready-made software. It provides advantages like increased efficiency by cutting down manual interface, increased productivity, better synergy between teams, automated workflows and increased profitability. Our approach to custom software development is practical and based on modern & advanced technologies, which is fit to use, cost-effective, scalable and keeps the business ahead from its competitors.
We are a well-established custom software development company with 20+ years of robust IT experience in helping businesses develop tailor-made solutions. We focus on superior user experience to improve user adaption by considering ease of use, typical user base and modern-day aesthetics. We serve a wide range of industries like manufacturing, healthcare, supply chain and logistics, education, e-commerce, teleshopping etc. however, we have no boundary for vertical.
Optimizing Business Process
Every organization has its own business model and in-house processes, and it is difficult to change business processes to suit a particular application or software. Our software development team will help you to design and develop your software in such a way that it can align with the existing business model and cope up with organizations unique in-house business processes.
Flexibility
Market dynamics change every day and adapting to the new processes and technologies to maintain a strong hold in the market is important. At Kansoft, we provide the flexibility of updating your customized software with the latest tools and technologies.
End to End Software Product Development
We ensure to follow our step-by-step process of development from brainstorming data to final quality check and deployment. Our team is capable of developing new custom software from scratch or updating your existing one.
Security
Today's major concern of any B2B or B2C company is breach of data; end users who are transacting online always have security concerns at the back of the mind. Within the internal process of organization, it is important that every data is protected. With our custom software development, we help you to choose which data security technology or protocol is ideally suited for your business.
Kansoft Development Process

Ideation

Design
Detail system architecture
Define elements and module
Wireframes and UI/UX designing

Development
Unit and Integration testing

QA/Testing
Perform regression testing

Deployment
Ongoing release management

Maintenance and support