Hospital Management Information System
A complete end to end solution for Hospitals, Healthcare centers, Pharmacy and Clinics.
Request a demo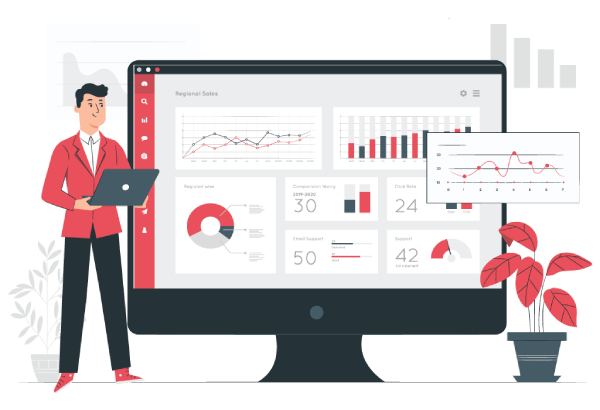 Technology is changing every now and then, it has brought something new in every single field, and medical is no different than others, from machinery to life savior vaccines, the medical field has benefited greatly. Similarly, paperwork is now replaced by mechanized software, which helps organizations to keep hold on work and get deep insight on each and every minor detail of what's going on in the organization. Managing Hospitals services manually is way more difficult than one can even think, tracking every single prescription, lab reports, medicine details, patient records, scheduling and appointments is more complex. 
Kansoft is a team of 70+ employees, who are working wholeheartedly to accomplish client's requirements, reduce pain areas and increase profitability. We provide various solutions according to the needs of clients. Our client tagged us as the best Hospital Management Software Company, and we feel proud to receive such positive feedback. Our HMIS is user friendly and effective software. Every single prescription, lab report, medicine detail, service charge, invoice and billing, appointment details are saved in the system, it helps you to get real-time data at your figure tips. Patients can book online appointments based on doctor's fees, specialty and availability, see lab results and history online. Organizing doctor schedules and handling payment is effortless. 
Kansoft HIS software is a great choice for any healthcare facility trying to build a good image and expand its portfolio. Therefore, if you want a solution that can modernize and streamline your clinic operations, then Kansoft Hospital Management Information System software is definitely a right fit for you.
Key Modules of Hospital Management System

Online Appointment System
Patient can book online appointment
Unique patient ID for tracking visits
Keep an eye on doctor's appointment

Medical Record Management
Manage medical history of patient
Doctors can see compiled medical data of Patient
Add and view report anytime
Access management according to hierarchy

Inventory Management
Enable for Inventory store management
Maintain Purchase order with due dates of delivery
Maintaining Stock and Reorder levels
Adjustable bill payments according to departments

Doctor Consultation
Define charges according to the service
Mark new and existing patients
Maintains patients history

In-Patient and Out-Patient Management
Easy handling of patient's requirement
Data regarding Surgeon and nursing staff
Data regarding ward and bed availability

Analytics and Dashboard
Dashboards according to the roles
Integration of Microsoft BI Platform for better analytics
Automatically emails the report at scheduled date-time
Security to data due to role-based access configuration.

Lab Management
History tracking and reporting
Sample management and billing
Wide variety of workflow modules

Radiology Management
Centralized reporting tool for CT, MRI, Ultrasound, X-ray.
Authorized personnel test report
SMS/Email sent to the patient when results are available
Completely compatible with all radiological imaging technologies

Pharmacy Management
Manage multiple pharmacies
Avoid incorrect distribution of medication
Oversee drug distribution
Differentiate FIFO and LIFO dispensing methods
Go paperless and improve your productivity with Kansoft Hospital Management Information System
Key benefits of Hospital Management system
Streamline workflows

Foolproof data security

Effective data collection 

Better return on investment

Reduced need for manpower

Improved clinical processes

Improve day-to-day operations

Optimize resource management

Quick and error-free decision-making 

Spot any management issues in clinic

100% accuracy and unmatchable speed

Access patient's data anytime and from anywhere

Reduces expenses of an organization due to less paperwork

Deep insight of data to the management helps increase revenue

It improves the communication and interaction of doctors with their patients

Latest technology gives flawless performance to pull up data from hosted/cloud servers