E-INVOICING SYSTEM
One step billing solution and flawless integration with ERP, GST, e-Way bill
Request a Demo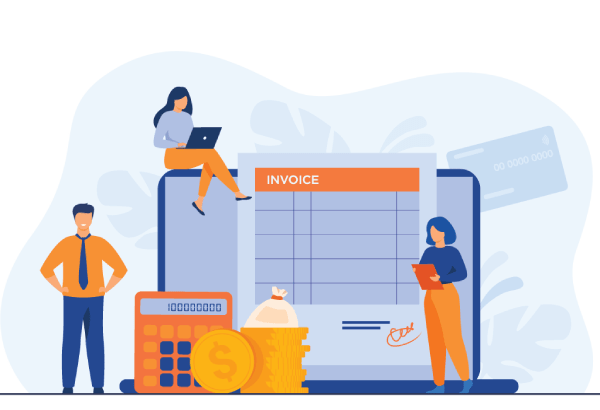 Traditionally, managing invoices was a tedious task, lots of paperwork included and there were fair chances of misplacing some invoices. Electronic invoicing helped us in lowering down this burden, it provides an error free environment with efficient work capability and effective communication. 
Kansoft E-invoice system enables suppliers, buyers and trading partners in streamlining their invoice process. It is a customized ready-made solution that can be smoothly integrated with ERP based billing system and other tax-based solutions.
Kansoft E-invoice solution key points
Data extraction and mapping
Mapping and Extraction of data
Recognize all arenas required for fiscal compliance
Reduced document mistakes and improved payment cycles.
Seamless document exchange with trading partners.
AR and AP invoice management
Organize accounts payable and accounts receivable invoicing
Submit, validate, and receive invoices from customers and suppliers
Gain access to real time data
Automate emailed invoice receipt and data capture
Invoice monitoring
Track rejection notices and invoice notices
View attachments in PDF and XML formats
Single platform to view invoices and report status
Monitor approved and rejected invoices
Hassle free integration with ERP
Implement a data integration process with the internal system
Automate the task of issue and receipt of all invoices
Application extracts the invoice data from your ERP
Converts the data into JSON format as per the schema provided
One click import/export of your date from your ERP to GST portal
Reconciliation with e-waybill, GST and E-Invoicing
One click data extraction for GSTR-1 filing

One click data preparation for reconciliation 

Generate E-Way Bills in bulk

Precise tracking of sales entries in journal entries

Generate Receipt Note, Delivery Challan, Debit Note and Credit Note

Extend and consolidate E-Way bills.

One-click reconciliation of e-Invoice data with e-way bills and GSTR

Auto-Accounting of procurement invoices directly into ERP

Print your e-Invoice with QR Code and IRN facility

Auto-Data fill for GSTR Filing and E-Way Bill
Benefits of Kansoft E-invoicing system
Reduced costs

Better compliance

Privacy and Security

E-Invoice management

Helps in tax calculations

Better data management

Saves time to file returns

Seamless ERP Integration

Reliability and availability

Details secured in the QR code 

Improved credibility of business

Integrated with GST and e-Way bill

Improved Supplier-Buyer Relationship

Integration of the data across various GST systems.

Deployed without making unnecessary programming efforts

Prevents multiple invoice generation errors due to streamline process.